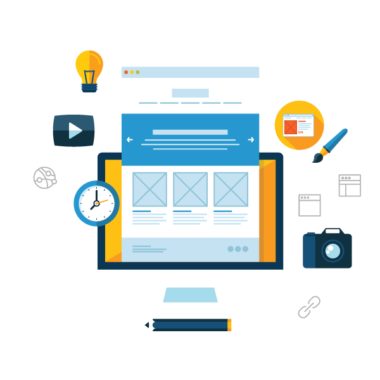 Website Design
Dreams International is an expert Website Design Company in Pune focused on delivering innovative, creative, responsive yet highly functional website design. We build websites that drive leads, engagement, and sales opportunities.
Professional Website Design Company
Our design process is persona driven taking user experience to heart. We employ analytics, personas, testing, and iteration to optimize website design. We focus on driving tangible results for our clients, and growing their brands online has enabled us to create long term relationships. Contact Us to see how we can become your partner for digital growth.
Our websites are customized to fully satisfy your needs. More emphasis is laid on presentation which helps in representing your business positively and attractively. Navigation is also made easy so it makes your website users to access all the pages with ease and simplicity. Design needs to be coupled with an understanding of its function with a view to serve business maintaining light weight web design. Effective design is a main area of expertise which we would rather implement than verbalize about. Design is very important constraint of any website.
Responsive Web Design
Responsive Web Design is a design philosophy which aims to develop and deliver an optimized website experience on devices with different widths and different resolutions.
Search Engine Friendly
Search engines doesn't always look at the website the way we do. We focus on building web pages such that they are structured similar for search engines and human visitors.
Domain Branded Email ids
It's all about building credibility, branding and trust, the perfect impression of your business to the outside world saving your business from negative effects of a free email.
State of Art Web Hosting
We offer Secure & Reliable Web Hosting for Your Website. Our web application accelerator, powered by Varnish Cache, ensures the maximum performance of your website at all times! You web server is powered by cpanel and state of art infrastructure.
Powerfull Website Analytics
Web analytics deliver data about your visitors and their behaviour which helps us to improve your website's performance and conversion rates. We use Google Analytics, Google Search Console, Bing Webmaster Tools for monitoring Search Engine data
Website Security & Maintenance
It is important to keep your website secure from malicious attackers. We ensure that your Website is protected against any security threats, backed up regularly, constantly monitored for any issues ensuring smooth functioning of the website.
17
Complex intranets for corporations
97
Popular Facebook applications
74
E-mail marketing strategies
36
Experienced Web Development Ninjas
Each project exhibits its own particular objectives, audience, and opportunities. Our way to deal with incredible undertakings starts with a time-tested process that finds and addresses the unforeseen.
Tell us about your project
Let us help you get your business online and grow it with passion
Thrive online — get best unbeatable interactive experience based on the smart design and innovative technology. Ready to get started?
Entire experience with Ankit and Dream International team was fantastic. We just narrated our concepts and message we want to deliver through our site and they did the rest. The design and page layouts are smartly done. We wish Ankit and his all the best for their future endeavors..!!

Chitra & Prasad Kulkarni
Be fit Be You
Had an extremely good experience with Dreams International with regards to my website development projects. Have developed 2 websites from this team and they are too professional in there work. I would surely recommend them for any Digital activities. The rates are market compatible and the service, dead line, post delivery service are too good. Will surely work with this team on other projects as well.

"I've had a remarkable experience with Dreams international and I appreciate the expertise with which they created a website for me. The quality of their work is top-notch.Their designs are creative and the UI they provide is highly intuitive.

But more than just expertise, it's the agility with which they work is what I find commendable. The team was always on their toes and open to make modifications to my website as and when desired, and that too really quick! I'm looking forward to trust them with my future projects too. :)"